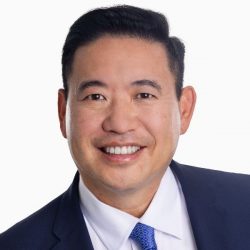 The Asian American Bar Association of New York (AABANY) is proud to announce that Kevin D. Kim will receive the annual Norman Lau Kee Trailblazer Award at AABANY's Thirteenth Annual Fall Conference, on October 8, 2022 hosted at the Fordham University School of Law and co-sponsored by the Center on Asian Americans and the Law.
AABANY's Trailblazer Award is named after Norman Lau Kee, who was a revered legal and community pillar of New York City's Chinatown for decades. The Trailblazer Award honors an accomplished leader in the legal profession who is of Asian American and Pacific Islander (AAPI) descent or who has demonstrated dedication to AAPI issues in the community. This award honors an individual who has carved a path for others to follow, served the community as a mentor and role model, and made a lasting impact on the AAPI community through his or her dedication and commitment.
Kevin Kim currently serves as Commissioner for the New York City Department of Small Business Services, appointed by Mayor Eric Adams to lead this agency "focused on equity of opportunity leading to economic self-sufficiency and mobility for New York City's diverse communities."
Kevin's family moved from Korea to Sunnyside, Queens when he was only five years old. Along with his grandmother, they lived in a one-bedroom apartment for their first seven years in this country. His mother was an artificial flower designer and his father went door-to-door in the garment district to sell those flowers. He is a proud product of the New York City public school system, having attended K-12 in both Sunnyside and Bayside, Queens. He graduated as part of the first graduating class at Townsend Harris High School at Queens College. Kevin graduated from Stanford University in 1993 with both his B.A and M.A., going on to receive his J.D. from the Columbia University School of Law. In law school, he was a Harlan Fiske Stone Scholar and a Senior Editor of the Columbia Law Review, already showing his passion for law and his dedication to excellence.
He started his legal career by clerking for then U.S. District Court Judge Denny Chin in the Southern District of New York, who was the first Asian American appointed as a United States District Judge outside of the Ninth Circuit. He then worked as an Associate at Davis Polk & Wardwell where he practiced corporate law.
Emigrating to the United States when he was 5, growing up in the cosmopolitan melting pot of New York, seeing the city elect David Dinkins, its first African American mayor – all of these experiences broadened his vision. Kevin saw the great diversity and realized that if Asian Americans wanted the same representation, they would have to diligently work for it. As he once said, the progress of Asian American inclusion is not a "function of time […] You have to be active. You have to demand. You have to contribute. You have to participate. That's the only way to be seated at the table." This realization pushed Kevin to transition into the government sector and directly change the structures that hinder Asian American representation. For four years, Kevin served as deputy director of community affairs for former Congressman Gary Ackerman (D-NY-05). Kevin's time at the Congressman's office allowed him to appreciate the importance of providing excellent constituent services and motivated him to consider running for office himself.
Throughout his distinguished career, Kevin has lived up to his own ideals and embodied the change he wants to see in the world. His professional activities and accomplishments have paved the road for AAPI attorneys to tread to higher places of leadership within their communities. His affiliation with the Friends of Thirteen (PBS), the American Red Cross of Queens, the International Student Conference, and countless other community organizations continually raise the bar for public service. Kevin's numerous accolades and recognitions include:
In 2009, Kevin became the first Korean American to win a New York City primary when he became the Democratic nominee for City Council District 19;
In 2014, he was appointed as the first Asian American Commissioner of the New York State Liquor Authority;
In 2015, the National Ethnic Coalition of Organizations (NECO) awarded Kevin with an Ellis Island Medal of Honor in recognition for his many years of community service;
In June of 2017, Governor Andrew Cuomo appointed Kevin as a Trustee of the City University of New York (CUNY) making him only the third Asian American and the first Korean American to serve on the CUNY Board of Trustees;
In 2020, he received the Hong Yen Chang Award at the 9th Annual Columbia Law School APALSA Conference; and
In February of this year, Kevin was sworn in as a member of the President's Advisory Commission on Asian Americans, Native Hawaiians, and Pacific Islanders.
Past Recipients
2021
Glenn Lau-Kee
Partner, Lau-Kee Law Group
2020
Hon. Doris Ling-Cohan
Justice, New York Supreme Court, Appellate Division, First Department (Ret.)
2019
Parkin Lee
Chief Legal Officer, Rockefeller Group (Ret.)
2018
Kin Ng
Bureau Chief, Red Zone Trial Bureau, Kings County District Attorney's Office

2017
Hon. Randall T. Eng
Presiding Justice, New York Supreme Court Appellate Division, Second Department (Ret.)

2016
Sylvia Fung Chin
Partner Of Counsel, White & Case LLP
2015
Rockwell "Rocky" Chin
Attorney & Community Activist
EEO Investigator, New York State Insurance Fund (Ret.)
2014
Hon. Marilyn D. Go
United States Magistrate Judge, Eastern District of New York (Ret.)